The decriminalize nature movement in North America – Wins and Updates
November 25, 2020 @ 8:00 pm - 10:00 pm
Online

Join leaders of the US and Canada Decriminalize Nature movement to discuss what's next for psychedelics decriminalization in North America.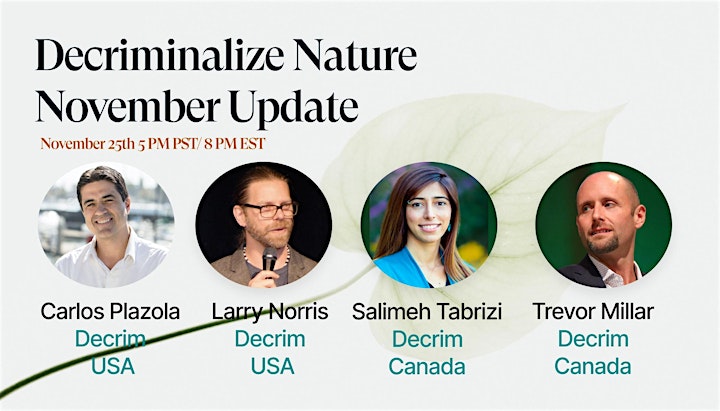 Join us on Wednesday, November 25th, at 5 pm PST/8 pm EST for a live FREE Webinar on the recent wins and updates of the Decriminalize movements in the US and Canada.
Join Carlos Plazola and Larry Norris, the leaders of the US Decriminalization Nature movement and Trevor Millar and Salimeh Tabrizi of the Canadian Psychedelic Association for an inspiring conversation on the successful wins of the Decriminalization Nature Movement in the US, the updates in Canada and the next steps moving forward!
October and November were historical months for Decrim Nature US with Ann Arbor, Michigan, as well as Washington DC, decriminalizing all plant medicines. Meanwhile, in the state of Oregon, the majority of voters supported Measure 109, making it the first state to legalize psilocybin therapy. Oregon also became the first state to decriminalize possession of all drugs.
What can you expect for the next chapter of the Decrim Nature Movement in the US and Canada and what can you do to support local campaigns? Join us to find out more!