VT News Roundup: Control Board Stays Firm on Labeling, Discusses Future of Medical; Opt-In Updates in Rockingham and Wilmington
MONTPELIER — The Vermont Cannabis Control Board has decided against recommending specific warning labels on the health effects of cannabis products, after the Vermont Medical Society last week called on the Board to require additional labeling and a 15% cap on all THC products. More from our Vermont cannabis news roundup:
The Vermont Medical Society urged the Control Board and the Legislature to require warnings that cannabis and its main active ingredient, tetrahydrocannabinol — THC for short — may cause psychosis, impaired driving, addiction and harm to fetuses and nursing babies.
Pepper said the subcommittee did not want to overload the labels. He pointed out that a safety flyer handed out with cannabis products will address health effects. He added that Act 164, the Vermont law that legalizes recreational cannabis, allocates up to $10 million annually for education and prevention.
"There's a lot more that can be done than just trying to pack a whole bunch of information on a tiny little label," Pepper said.
The board adopted the health warnings recommended by its public health subcommittee, which say: "CONTAINS THC", "NOT SAFE FOR KIDS" and "KEEP OUT OF REACH OF CHILDREN."  — via VTDigger
Stay Tuned: What's happening to the Medical Program?
The Control Board, during this past Friday's meeting, discussed the future of the medical program in Vermont. The program is due to transition to the Control Board's oversight early next year. The current statues and regulations that control the program expire on March 1 2022. The board walked through what's written in statute (what will not change) and what new regulations the CCB will have to write, as well as the recommendations made by the medical subcommittee.
Are you a patient or caregiver who will be impacted by the program's transition? We're looking for people to tell their stories. Please email [email protected] and someone will get back to you!
EDITOR'S NOTE: Stay tuned for more on the medical program from Heady Vermont this week.  Are you subscribed?
Vermont Cannabis Control Board Warns of Scam
The Vermont CCB recently received notification of a scam targeting prospective participants in the adult-use cannabis marketplace. A caller reached out to a local business claiming to be from the Board and demanded cash as well as other information from the business, including photographs of their premises, in order to avoid further fines.
The Board noted that they will never demand money over the phone, nor will they call, email, or text anyone to demand cash, assets, or personal information without being given time as part of a clearly established adjudicative process. — HVT
Retail Cannabis Vote Proposed in Wilmington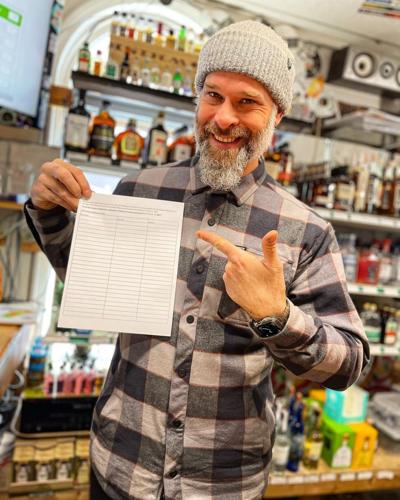 WILMINGTON — Local Wilmington store Ratu's Liquor and Market last week called on residents to sign a petition to trigger a community-wide vote on allowing retail cannabis in town. "It's official!" Ratu's announced via Facebook. "We are seeking our CANNABIS license!"
The first step, Ratu's said, is to get on the warning for annual Town Meeting in March. The store's goal is to get signatures from 90 registered Wilmington voters.
Town Clerk Therese Lounsbury confirmed the petition started being circulated Wednesday. "They're in the process of collecting signatures," she said. "They need 5 percent of the voter population so they need 82 signatures." — via Bennington Banner
Is cannabis up for a vote in your town? Check out our map.
Rockingham Sets Vote on Retail Cannabis
BELLOWS FALLS — Voters at Town Meeting will get to decide whether to allow the sale of legal cannabis in Rockingham.
On a 4-1 vote, the Rockingham Select Board Tuesday night decided to leave the issue up to the voters.
The Rockingham board, which was meeting jointly with the Bellows Falls Village Board of Trustees for one of their regular quarterly meetings, heard from advocates against substance abuse about their concerns.
They said while they are not opposed to the town allowing the sale of cannabis, they are concerned about the possible exposure of children, particularly children whose families have a history of substance abuse.
Under the state law, only people 21 and older will be able to buy cannabis legally. Legal sales are slated to begin in October 2022. Only about 30 Vermont towns have currently opted in to allow retail sales. — via Brattleboro Reformer
Got a news tip or an upcoming opt-in vote you don't see here? Get in touch!
Thanks for reading 🙏🏽
Heady Vermont is made possible with support from readers.
If you find our news and industry info valuable, please consider
a yearly membership – and get premium access to content,
priority industry alerts and exclusive partner offers. 
Fentanyl-Laced Cannabis "Scares" Continue in Vermont
BRATTLEBORO— Three people face charges after Brattleboro Police said they were dealing marijuana laced with fentanyl.
On Tuesday, officers executed a search warrant at a home on Brattle St. in Brattleboro. Police claimed they found several containers of cannabis that were laced with fentanyl.
Gregory Larose, 50, Lindsi Houle, 38, and Steven Miller, 34, all from Brattleboro, were charged with drug possession and are due in court in January.
Officers say lacing cannabis is part of a new trend. Just last week, Brattleboro officers said they had to revive someone who overdosed on marijuana laced with fentanyl. — via WCAX
Meanwhile, at UVM…
BURLINGTON —A group of five UVM students had adverse reactions to cannabis edibles containing THC Dec. 1, UVM Police Chief Tim Bilodeau said. Three of the students were hospitalized.
Vermont saw several cases of laced marijuana leading to overdose in recent weeks, according to the CatAlert.
"We certainly did wonder, ourselves, about whether there was anything laced or something like that," Bilodeau said. "I'm not really sure that was necessarily the case or anything. I don't know all the circumstances." UVM Police Services will send samples from the Dec. 1 incident scene to a laboratory to test for possible presence of fentanyl or other drugs, Bilodeau said.
— via The Vermont Cynic