Presidential Debate Bingo Version 2.0
There's no two ways about it – the first presidential debate on September 29 was an unmitigated, flaming shit-show of a disaster. What was supposed to be a composed discussion descended into a frenzy of cross-talk, interruptions and personal insults. Jake Tapper's diagnosis was probably our favorite: "That was a hot mess, inside a dumpster fire, inside a trainwreck."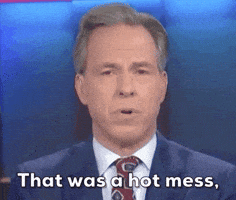 The president's COVID diagnosis derailed the second debate in the series when he refused to participate virtually, and instead, both candidates participated in dueling broadcast town halls on the night the debate was originally scheduled.
The last presidential debate is the final opportunity for the candidates to face off before Election Day, and will focus on the coronavirus pandemic, race and climate change, among other topics.
NBC News' Kristen Welker, who will moderate the final debate, will also ask President Donald Trump and Democratic candidate Joe Biden about national security and more abstract concepts, such as "leadership" and "American families," according to a commission news release. The commission on presidential debates has also said the topics are subject to change depending on how the news cycle turns in the days before the debate.
On Monday, the Commission on Presidential Debates also announced it would mute both candidates' microphones during portions of Thursday's debate.
Across the country, early and absentee voting is at a record high. The Vermont Secretary of State's office today said that, with 13 days left, 166,000 Vermonters have voted – just shy of 50% of 2016's total turnout. Nationwide, over 30 million people have already voted. At this time in 2016, only 5.6 million votes had been cast in the U.S.
We are hoping that you're registered and you've already voted. If you haven't, stop everything you are doing right now and go do that. Vermont mail-in ballots should be mailed by October 24. Check out our guide to registering to vote, or visit Vote 411 and get started that way.
Vermonters, we're TWO WEEKS out from the #VT November #2020GeneralElection! Make a plan today to use one of your #VoteSafeVT voting options:

– Get your ballot in the mail by Oct. 24
– Drop your ballot off at your Town Clerk's office
– Bring your ballot to the polls on Nov. 3 pic.twitter.com/PWQsNv55Gg

— Vermont Secretary of State's Office (@VermontSOS) October 20, 2020
If you're all set on voting, great job! Now you're ready to watch the debates and play the game.
Thursday's debate is the final opportunity for Biden and Trump to face off as we head into the last two weeks of the election. So we've spruced up our Bingo game a bit to reflect current events – a requirement in a year where a day feels like it's a month long – and shared it here for your debate viewing pleasure.
Optionally, if you'd like to add a little buzz to your game, toke or drink when prompted – we've included a few fun prompts below the board.
Before it starts:
Everyone shotgun a beer or take a huge toke–or, if you're abstaining, take three deep breaths and center yourself. Whatever helps you deal with this shit.
Print the bingo board below, or play on your device. If you're playing on an  iPhone, save the photo. Go to your Photos app, find the photo, go to Edit then Markup to X off your boxes. You need to get 5 in a row across, down or diagonally to win the board. It's a game for one, but in pandemic times, that probably suits just fine.
Be sure to monitor your blood pressure – and have fun! As much as you can manage when your country's in chaos, anyway.
Optional Prompts
Take a sip or a toke when Trump:
Makes fun of Biden for being in his basement
Talks about the China Virus
Claims his financial records are "perfect"
Makes false claims related to coronavirus and pandemic response
Says he felt like Superman when he was on steroids
Take a sip or a toke when Biden:
Tells a long-winded anecdote
References the American working class
Tells Trump to shut up
Claims he's going to end systemic racism and fails to explain how
Calls Trump a clown
BONUS | Bang your head against the wall when:
Biden uses Obama's record as evidence of his own capabilities as a leader.
You can no longer follow what Trump is arguing.
Helpful Election Resources
Not sure where to get started voting? We've provided some helpful links!
Want to do more?
You can donate to organizations that register voters, help educate people about their voting options, and rally them to cast their ballot. These efforts are nonpartisan, meaning groups don't tell people who to vote for, but rather, remind them that they should vote and how they can go about it. Great examples of nonprofit organizations that support these efforts: