ICYMI – Friday Roll Up: Road Trip Edition
Welcome to the Roll Up: Road Trip Edition
Featuring Monica Donovan And Kathy Blume On The Cannabis Road Throughout New England…
The Why Of The Journey….


Saturday, July 20 is Heady Vermont's Summer Farm Jam and Guide Launch at Bordertown Farm in Brattleboro. It's a chance to celebrate both Vermont's cannabis community, as well as the launch of our first print publication, The New England Cannabis Guide.
The Guide will feature profiles of all the New England states, with information about current legalization status, what you can and cannot do in each state (from a cannabis perspective), tips about where to get cannabis, where to sleep, what to eat, and a few fun things you can do in between sleeping, eating, and partaking.
It will also have a state-by-state directory of New England's cannabusinesses (Have a biz you want to list? Go here! It's only $50).
Because it's best to write about what you know, Heady Vermont CEO Monica Donovan and Communications Director Kathy Blume decided to hit the road and meet some of their regional peers!
Here's some of the highlights from their quick-yet-comprehensive trip!


We hit the road for Brattleboro, Massachusetts, and Parts South! Pro Tip: The Guardians of the Galaxy soundtrack (Vols 1 and 2) makes for some great road tripping tunes! "Oogachucka, oogachucka…"


Monica finds our one dummy copy of The Guide AND learns how to use the GoPro!


We visit Bordertown Farm, site of the July 20 Summer Farm Jam. GORGEOUS!


Hilary and Jared of Bordertown Farm show us their hemp greenhouse and Hilary shows us a sole from Famolare, her father's shoe business – about which Kathy geeked out because she had those shoes in 5th grade and LOVED them!


Next stop, downtown Brattleboro where we said hi to Scott Sparks at Vermont Hempicurean (our kickass Summer Farm Jam and Guide title sponsor). We caught up, sampled our way through his store, and got some great weed leaf sunglasses!


Before we left Brattleboro, we swung by Harmony Underground, a store which prides itself on their collection of locally blown glass. We both celebrated cannabis and let our hair down with Chad.


Kathy also bought that pink pipe. 

Next stop Providence, RI! Epically yummy dinner at Food By North:


Breakfast was at Olga's Cup and Saucer. Fantastic!


We stopped off at Watch Your Head Smoke Shop where we hung out with the proprietor, Honest Bob. It's the oldest smoke shop in the area, and the first one that's #LGBTQ-owned.


H.B. says he encourages people to make infused savory butter or oil dishes (rather than sweets) because so many people deal with #diabetes and other blood sugar issues.


They also work to keep the shop relevant by using LED lights and compostable plastic bags.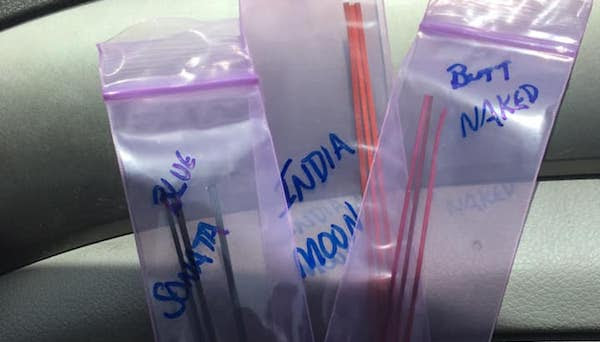 H.B. was kind enough to give us some of their house incense: Blue Sonata, India Moon, and Butt Naked which – if you were wondering – smells like baby powder.


Wandering back through downtown, we smelled something goooood, and ended up having a spontaneous riverside sesh with Arei, Tea, and their friends. They said Greenleaf Compassionate Care in Portsmouth, RI (where we happened to be headed next) has the best stuff!


We then met Jeff at Greenleaf (#MMJ) dispensary in Portsmouth (which accepts out of state cards) and Michael at CBD Store of Rhode Island. They both talked a lot about the wide ranging demographics of their clientele and how great it is to help people improve the quality of their health and lives.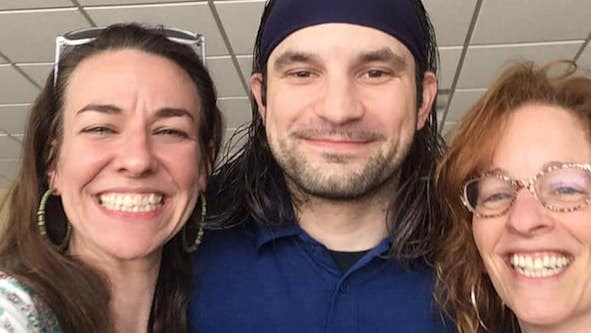 Saw some gorgeous freehand graffiti at Underground Culture in Tiverton, RI.


The next morning we went to meet Carla and Kurt from Cape Ann Botanicals in Ipswitch, MA. Kurt is an on-staff cannabis nurse who works with everyone from kids to seniors to the occasional parrot!



We were psyched to see they carry products from Vermont companies Luce Farm, Sunsoil, and Upstate Elevator!


The trip concluded with a visit to New England Treatment Access (NETA) in Northampton, where we met Daniel and Leslie (who founded NETA after a long career fighting for public health around everything from AIDS to reproductive rights).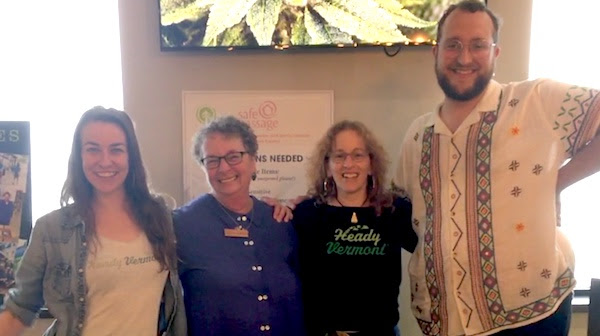 They showed us their promo material, their facilities, some great bud (natch) and some of their innovations, like their cannabis inhaler.


Overall, we were so impressed with everyone we met – both their love for cannabis and for the people whom they're serving. For the people on the ground (and for us as well), cannabis definitely seems to be about making the world a better place – one moment of fun or one moment of healing at a time…
Honestly, it would take us YEARS to create a fully accurate and comprehensive guide to all the cannabis corners of New England. But hopefully, this will give everyone good information and a great start!
Heady Love And Kisses,
Monica and Kathy
P.S. Remember, if you want to list your business in The Guide, you can do that here.